Pokémon Season 16 Episode 28
Cilan and the Case of the Purrloin Witness!
As Ash and his friends prepare for the upcoming Marine Cup Tournament on board their new cruise ship, the group learns that Mrs. Ripple, a jewel collector, will display her collection after the tournament, but upon the tournament's conclusion she discovers that her rare Eye of Liepard has been stolen. She suspects Mr. Shaw – a businessman and jewel collector who has been asking to buy the Eye of Liepard from her – even though it was watched over by her Watchog all night. Cilan takes on his detective role once more to discover the thief of the Eye of Liepard.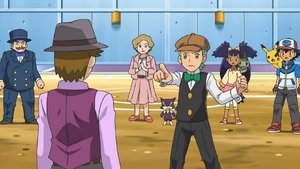 May. 09, 2013