Pokémon Season 21 Episode 4
A Masked Warning!
When Ash gives Lycanroc a bath, an accidental splash of dirty water unleashes Lycanroc's surprisingly red-hot temper!
Then, when our hero wonders aloud what Gladion is up to, Nebby teleports Ash and Pikachu to him. They meet Silvally, a Pokémon created to defeat Ultra Beasts—and Gladion is convinced that Nebby is one! Suspicious, Gladion wants to know what Ash is up to, and our hero suggests a battle so he can find out!
Ash's Dusk Form Lycanroc faces off against Gladion's Silvally. Lycanroc battles magnificently, but another temper tantrum betrays its inexperience, and Silvally wins. But Gladion decides Ash is trustworthy, and their friendship starts to grow…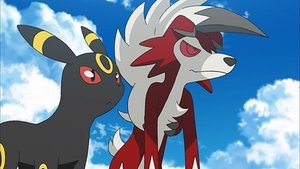 Oct. 26, 2017