Pokémon Season 21 Episode 41
The Long Vault Home!
While practicing their vaulting skills during gym class, Ash and friends compete to see who can jump the highest. The next day, an Ultra Beast named Stakataka appears in Alola—and our heroes initially mistake it for a giant vaulting challenge! But they soon realize its true identity, and they spring into action as the Ultra Guardians. After multiple failed attempts to get Stakataka into a Beast Ball, the Ultra Beast finally recognizes that our heroes are trying to help, and it agrees to be caught so it can be returned to its home world. It's another success for the Ultra Guardians!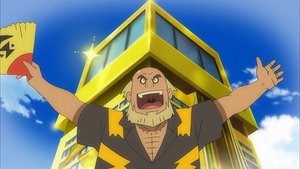 Aug. 09, 2018