Pokémon Season 5 Episode 16
Bulbasaur... the Ambassador!
Ash gets a surprise request from Professor Oak: it seems to Pokémon in the Professor's laboratory have taken to fighting amongst themselves, all of the Professor's attempts to stop them ending in failure. Knowing that Ash's Bulbasaur has much experience peacemaking between Pokémon, Professor Oak enlists this Pokémon's services. Sure enough it isn't long after Bulbasaur's arrival that peace returns to the laboratory, but will the same endure even after Bulbasaur leaves? If not, can Ash bear being separated at length from one of his oldest and best Pokémon friends?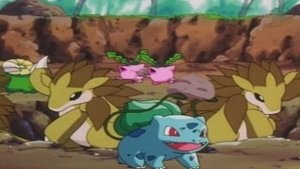 Nov. 22, 2001