Pokémon Season 5 Episode 36
Will the Real Oak Please Stand Up?
Hearing of the posh reception prepared for the host and guest of a radio show to be recorded before a live audience, Jessie and James of Team Rocket quickly announce that they are in fact the long-awaited celebrities. Their mastery of disguise is soon put to the test, as it turns out that the guest in question is to be none other than Professor Oak. James quickly rises to the occasion, creatively answering arcane Pokémon questions from excited fans. When the real Oak arrives, the children find his answers inconsistent with those received from James the day before, and ironically finger the real Oak as a fraud. When the two Oaks finally face off, the real Oak slips up in a Pokémon trivia challenge, leaving onlookers to conclude that James is the real deal. In the final test, it is decided that each of the two professors must compose a poem in the style for which Oak is renowned. Professor Oak is confident that poetry—his second love after Pokémon—will secure him victory, but little does he know that James has a hidden knack for verse as well.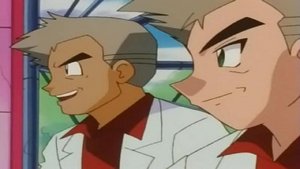 Apr. 25, 2002