Please note: You will have to skip some pages to get to the download button. This helps to pay the server fees.
Pokémon Season 5 Episode 57
A Claim to Flame!
After arriving at Silver Town, Ash runs into his favorite person: Gary! Gary is set on entering the Silver Conference, and is determined that this time he will be able to make it all the way, and beat Ash!
While Gary huffs his way into the Pokémon Center, Brock leads the way to the Athlete's Village. On the way, they bump into Mr. Goodshow, who is giving out balloons to greet the and, as part of his duties as Pokémon League Torch Committee President. Ash promises Mr. Goodshow that he will give it his all in the Silver Conference, which cheers Mr. Goodshow up even further than his normal level of cheer.
Meanwhile, Team Rocket are working at a restaurant in order to try and get some money, but wind up eating their way out of a job. Ash, Misty, and Brock make it to the Athlete's Village, where they are treated to a luxury room, with a networked computer. They immediately head to the Trainer Screening, where trainers use their one best Pokémon to try and qualify for the Silver Conference.
Ash is called to the floor to take on Salvador from Cherrygrove City, and the computer determines that Ash must draw his Pokémon first. He chooses Pikachu against Salvador's Furret. Furret's Dig seems to get the best of Pikachu, and goes in for a Headbutt to finish things off. Pikachu manages to jump on top of it before Headbutt can land, and performs a powerful Thunderbolt that leaves Furret vulnerable to a Quick Attack. That is enough to win the battle, as Ash gets his first victory. Phanpy and Cyndaquil take out Ash's next two opponents, allowing Ash to move on to the Semi-Finals!
Harrison made it through the Screening as well, along with Gary. Mr. Goodshow reminds Ash that only 16 trainers will be able to move from the Semi-Finals on to the Victory Tournament, but Ash is determined to win it all, no matter what! Later that night, Ash is unable to sleep, and takes Pikachu for a walk along the shoreline.
They stumble upon Gary, who is also out to clear his head. Gary reminisces about the day he left Pallet Town, which also happened to be the day Ash got his Pikachu. Gary compliments Ash on how he was able to tame Pikachu's wild streak, to the point where they are now best friends. Who knows where they might have ended up is things turned out differently? Gary sees the possibilities awaiting both him and Ash, but that won't let him be stopped from trying to win it all in the Tournament! While continuing their friendship, the rivalry is still strong between the two trainers.
Waiting for the Silver Conference torch to arrive in Silver Town, Ash is approached by two people looking to get him to apply for the Footprint Pokémon Panel. When he goes to sign what he believes to be paperwork, the people are revealed to be Team Rocket, who tie Ash up and take Pikachu! Gary finds Ash tied up and goes to stop Team Rocket, who manage to bump into the Torch Runner along the way. Pikachu Thunderbolts Team Rocket, blasting them off, but the Torch Runner is hurt.
While Gary cares for the injury, Ash runs the torch for him, lighting the flame in the stadium, signaling the beginning of The Johto League Silver Conference!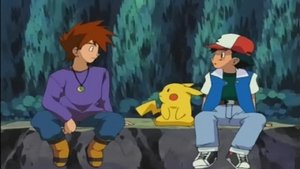 Sep. 19, 2002
Please note: You will have to skip some pages to get to the download button. This helps to pay the server fees.