Pokémon Season 10 Episode 2
Two Degrees of Separation!
Dawn and Piplup's Pokémon journey is off to a bumpy start! She needs to catch Pokémon so she can become a great Pokémon Coordinator like her mom, but both her and Piplup are having trouble getting the hang of things. After a Buneary and Burmy get away, Dawn spots a Pikachu and tries to catch it before realizing it belongs to another Trainer. When Team Rocket shows up to claim Pikachu as their own, Dawn realizes they're up to no good. A powerful attack from Piplup sends the Pokémon thieves packing!
Dawn brings the exhausted Pikachu to a Pokémon Center and calls Professor Rowan to give him an update. Elsewhere, Ash's search for Pikachu takes him to Professor Rowan's lab, where he learns that Dawn has rescued Pikachu—except she's already left the Pokémon Center to find Pikachu's Trainer. And when Dawn calls Professor Rowan again, Ash has already left the lab to find her!
As for Team Rocket, they're now resting and relaxing at a vacation house belonging to James' family. They've also picked up a new member, James's old Carnivine. Sadly, once James hears his fiancée is headed his way, Team Rocket must hit the road again. Meanwhile, still looking for Dawn, Ash meets up with his good friend Brock and catches a Starly. But none of them notice the surly stranger who's spying on Ash—a stranger whose identity will soon be revealed…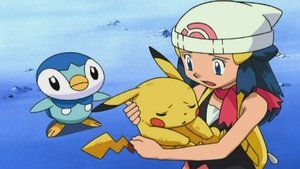 Sep. 28, 2006