Pokémon Season 9 Episode 34
Slaking Kong!
Ash is really excited to get to the Battle Pyramid, but he falls down a hole into a strange ruin. When Team Rocket goes to check it out, they end up falling in as well. As Ash and his friends explore, they set off a trap! They're saved by a man and his Regirock—the man's name is Brandon, and he tells Ash off for messing with the ruins. The ruins, he explains, are where the King of Pokelantis sealed a Ho-Oh. But instead of being careful, Ash gets excited and runs off in search of Ho-Oh. He finds something much more sinister when he awakens the spirit of the King, who possesses him and demands everyone's Pokémon as part of plan to rule the world!
Brandon challenges Ash, Pyramid King to evil King, at the Battle Pyramid. Only one Pokémon is allowed, and the King gets Brandon's Pokémon if he wins. The King takes advantage of Ash's battling knowledge, but Brandon's Regirock is no pushover. But the King has one more trick—he has no scruples! He has Sceptile collapse the ceiling on Regirock. Brandon calls it cowardly, and that snaps Ash back for a minute. Regirock comes back out, but the King has Sceptile hide behind the referee so Brandon won't attack.
Regirock uses Lock On to make sure its Hyper Beam hits, knocking Sceptile out. Then the King demands that Pikachu battle even though he's lost. Ash's friends call for him to return, and Ash regains control long enough to tell Pikachu to use Thunderbolt on him, expelling the King's spirit. This lets Brandon trap the King back in the stone sphere. Everyone's relieved, but Brandon reminds Ash that his foolish overconfidence led to this disaster—and now he'll have to wait for an official battle.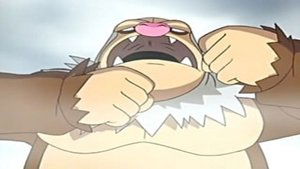 Jun. 08, 2006