Pokémon Season 8 Episode 12
A Cacturne for the Worse
The kids are still headed for Izabe Island, where May will compete in her next Pokémon Contest with Bulbasaur. Meanwhile, Team Rocket has just bought a cartload of berries to make PokéBlocks out of. Unfortunately, they aren't a type that PokéBlocks can be made out of.
On board the boat, May meets a Trainer named Harley and his Cacturne. He is quickly annoyed by her though, because she doesn't recognize what a Cacturne is, nor does she bestow highest compliments on his cookies!
Just prior to the Purika City contest, Max is nowhere to be found, until he runs up alongside Harley. May goes out and impresses the crowd with her Bulbasaur's Razor Leaf and Vine Whip, while Harley's Cacturne stuns the crowd with its lightning-fast Bullet Seed. Both of them progress to the next round.
In the next round, Cacturne quickly takes out an Azurill. Harley tells May that her opponent, a Surskit, is slow in battle, so her Bulbasaur moves in close to the Surskit. She is surprised when Surskit's Quick Attack deals a beating to her Bulbasaur—in fact, that Surskit is known for its impressive speed! May eventually recovers enough to claim victory.
In the next round, May faces off against Harley, and she's doing well with a strong combo of Vine Whip and Tackle. Just then, a recording plays over the loudspeakers—it's Max, telling an embarrassing story about May to Harley. She is mortified and angry, allowing Cacturne to hit Bulbasaur hard. Ash calls out to May, giving her focus. She combines Petal Dance and Razor Leaf for a beautiful knock-out blow. May wins the ribbon, and the kids head off. Meanwhile, Team Rocket is dreaming of being highly-successful PokéBlock vendors…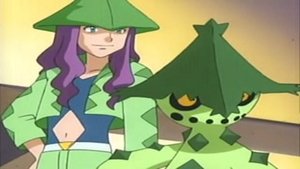 Nov. 18, 2004