Pokémon Season 8 Episode 6
The Scuffle of Legends
Team Magma and Team Aqua continue to fight on Monsu Island. The Red Orb, which can control Kyogre, is currently held by the Team Aqua Leader Archie. Archie merges with the orb and now crazed as a result, orders Kyogre to sink the island.
Everyone tries to flee into the ruins on the island, while Lance challenges Kyogre with his Dragonite. Dragonite's Hyper Beam is not strong enough to stop the ancient Pokémon.
Team Rocket still wants to steal Groudon, restrained inside the Team Aqua base. Instead, they are attacked by a possessed Pikachu, who awakens Groudon. The giant Ground-type leaves the base and begins a massive battle with Kyogre, but the two are evenly matched.
The kids find a way to distract Kyogre, which gives Groudon the opportunity to defeat the Water-type. The orbs leave the bodies of Archie and Pikachu, floating up in the air until they merge and then disintegrate. Archie and Pikachu both come back to their senses, while the two Legendary Pokémon retreat back into their ancient slumber.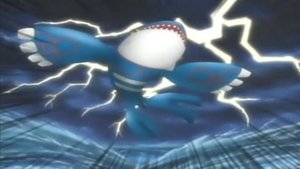 Oct. 14, 2004