Pokémon Season 8 Episode 19
The Great Eight Fate!
Our heroes have arrived in Sootopolis at last, and Ash is ready to earn his eighth badge—but first it's time to watch the Sootopolis Gym Leader, Juan, put on an impressive water show! Team Rocket tries to snatch Juan's Water Pokémon with an electrified net, but his Pokémon work together to free themselves from Team Rocket's net and foil the plan.
Ash challenges Juan to a battle, and of course Juan accepts. As a former champion Pokémon Coordinator, he intends to fight an elegant match. First Ash will face him in a 2-on-2 battle, followed by a second round of 1-on-1 battles. It's Snorunt and Pikachu against Sealeo and Seaking in the first round, and Ash is surprised by the speed with which Juan's Pokémon battle. Even Sealeo's Ice Ball attack is much faster than expected. Snorunt is knocked out and replaced by Corphish, and together Corphish and Pikachu manage to triumph over Sealeo and Seaking for a first round victory.
In the second round, Ash sends out Grovyle to face Juan's Luvdisc. Luvdisc is an agile opponent, but more than that, it surprises Ash and Grovyle with Sweet Kiss. Grovyle is confused, and it might not be the only one—elsewhere in Sootopolis, Team Rocket has disguised James as Juan in preparation for another money-making scheme. What's Team Rocket up to, and how can Ash counter Juan's Luvdisc? These questions will be answered in the next episode!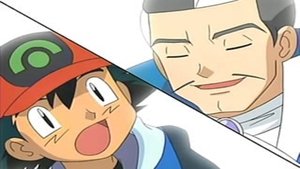 Jan. 13, 2005