Pokémon Season 8 Episode 45
The Symbol Life
Ash has opted to battle Articuno with Charizard in his Battle Factory match. Now he's busy training with Charizard, who has gotten even stronger during its time in the Charicific Valley. Team Rocket, secretly watching from the roof of the Battle Factory, are hopeful they can snatch the impressive Pokémon for themselves. But when the battle gets underway, the roof of the Battle Factory opens and they fall into the main chamber where everyone can see them.
Articuno and Charizard waste no time in clearing out the intruders before Noland and Ash get down to business. This Articuno is tough and knows a Water-type attack, so Charizard is in for a rough time. The two Pokémon wage a fast-paced flying battle that looks like it might end in Noland's favor as Articuno ices up Charizard's wing. Good thing for Ash that Charizard has a new trick in store: Overheat!
Articuno also packs a powerful Steel Wing, but Charizard grabs it mid-attack and turns the move into a Seismic Toss. Articuno tries to get back up and battle, to no avail. Ash is awarded the Knowledge Symbol along with a Frontier Folio to hold his Battle Frontier Symbols, and Noland congratulates him on a battle well-fought. Next stop, the Battle Arena!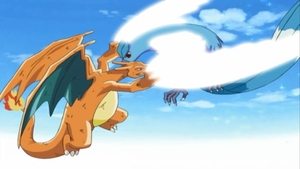 Jul. 28, 2005