Pokémon Season 8 Episode 36
From Brags to Riches
The preliminaries are over, and now the Hoenn League Championships begin in earnest! The qualifying round is all double battles, and Ash goes to watch Morrison's match against muscleman Gavin. Morrison's Growlithe and Gligar are up against Marowak and Machamp, and no punches are pulled in this all-out battle! It's not looking good for Morrison until Gligar uses Guillotine to knock Machamp out. But Marowak defeats Growlithe, and Gligar finally wins.
Ash is jogging along after the match, minding his own business, when he falls into another Team Rocket pit trap. But just as they finish their motto, their new boss catches them in the act and shouts at them to get back to work. Team Rocket runs away and Ash wonders what's going on, but not for long—he's up next in the qualifying round!
Ash sends out Torkoal and Corphish. His opponent Dominic sends out Swalot and Tropius, which may grant him an aerial advantage. But Ash's trusty Torkoal gives it all it's got, and takes down Tropius in a double KO. As for Swalot, its resilient body resists Corphish's attacks. Finally Corphish charges in, throws Swalot, and gets up close and personal to deliver a Bubble Beam that knocks its opponent out! Tyson has also won his first match, and now our Trainers move on to round 2!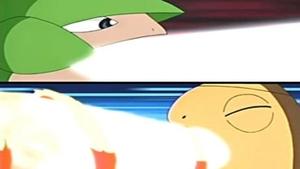 May. 05, 2005