Pokémon Season 8 Episode 8
Solid as a Solrock
Ash's battle with the Mossdeep Gym Leaders is set to begin. He calls out Swellow and Pikachu versus Tate's Solrock and Liza's Lunatone, taking into account the strange planet-filled aerial battlefield they will be using. Pikachu and Swellow appear to be at a disadvantage, but it is quickly negated by the fact that Tate and Liza aren't working together. Their Pokémon's attacks cancel each other out, and the two even collide head-on when attacking.
Team Rocket interrupts the battle, capturing Lunatone and Solrock with their robot and then escaping in their balloon. Swellow and Pikachu destroy the balloon, freeing the two Rock- and Psychic-types.
The Gym battle must resume, but the Gym has been destroyed—so it is decided they will battle by the water. Unfortunately for Ash, Tate and Liza now have their teamwork back, and they deliver a real pummeling to Ash's Pokémon. Each of his attacks is countered successfully, until he charges his team with Pikachu's Thunder and they break through Lunatone's Light Screen, finishing off the opposing team with Iron Tail and Aerial Ace and winning Ash his Mind Badge!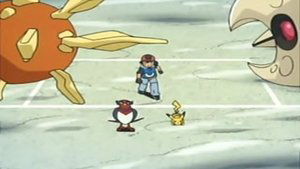 Oct. 28, 2004